» Love Around | 真愛黑白配 «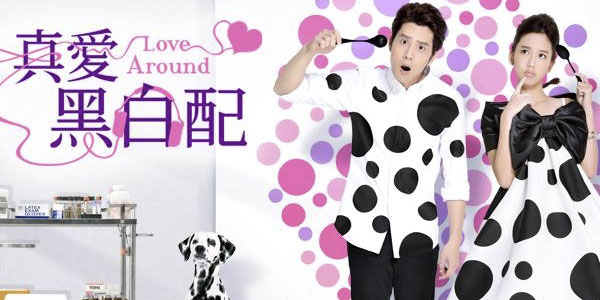 As I've mentioned before in a previous "Drama of the Week" post, I love Taiwanese dramas!! I started this one simply because Substitute Princess ended and I was craving another Taiwanese couple!!
So far there are 4 episodes released and I love the chemistry of these two. It could be due to the fact that this is their 2nd drama together (Love, Now is the other one, & I plan on starting it very soon)! But in the drama, they become friends first. They haven't been forced into any situation, they're simply keeping their relationship because they want to and enjoy the presence of each other's company.
They're initially drawn together because of their recent breakup to the partners they thought were "the one." Now, of course with any drama, there will be love between the two, but I'm loving that it's more of a natural/ realistic approach.
*Spoiler Alert* With the preview to next week's episode, I'm thinking someone had already developed feelings. Color me excited!! :-P
Summary of the drama:

While still reeling from the shock of his breakup, Zhou Zhen witnessed a girl, Liang Xiao Shu, getting dumped by her cheating boyfriend and didn't know how to fight back. Zhou stepped in and helped Liang exact revenge. They became friends over the incident. But their budding relationship soon suffered a great blow when Liang inadvertently made enemy with Zhou's father on a radio station. Could their relationship survive parental disapproval or die in its infancy?
If you'd like to watch too, and be totally hooked, check out these sites with English subtitles:
Dramafever
|
Viki
Thank you so much for stopping by!!
*To learn more about the giveaway,
click here
!!