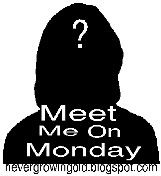 Meet Me on Monday is hosted by
Never Growing Old
and it's a meme for bloggers to get to know each other one Monday at a time.
This week's questions:
1. How many TV's do you have in your home?
Technically about 6...but only four are hooked up to be watched.
2. What is on your bedside table (nightstand)?
Oh boy....a clock, an old Kum & Go cup(half full), my mom's crackers(shh), a cup, toilet paper(for the runny nose), lotion, Tylenol, hand sanitizer, IcyHot, a fake rose that had earrings inside, more lotion, a candle, pens & a pencil, hair pomade, hair tie, candle, remote control, a Q-Tip, Hush, Hush, my journal, cell phone charger, a notepad, an application for TJ Maxx, a notebook (and don't get me started with what's in the drawer!!)
*If you want to see it for yourself...just click to enlarge the picture. I haven't cleaned it off in forever!! Eep. (picture may not work...)
3. How many pair of shoes do you own?
I am not even going to count, but I know I have about 50+ flip flops...no I don't wear them all, my black, grey and brown ones get worn the most. I need to wear the others. I know I have two pairs of heels and a few pairs of tennis shoes. Can't quite guess!
4. Can you change a flat tire?
Hahahahahahahahahaha. No.
But I don't have a car...so it's not too bizarre!
5. Do you prefer sweet treats or salty treats?
A mixture of both!! But I'd rather not have
salty
just not sweet....if that makes any sense?!
Leave comments & I'll comment back!! :)