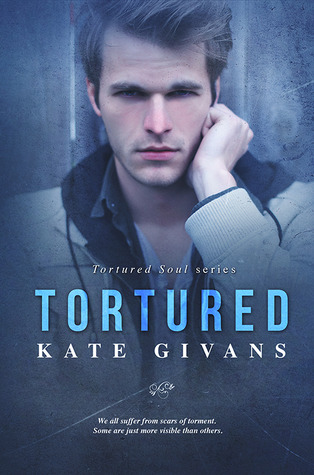 Tortured by Kate Givans
Series:
#1 Tortured Soul
Published:
19th July 2014
Genre:
NA Contemporary
Format:
kindle | for review
Overall:
DNF
goodreads
|
amazon
Summary: A contemporary romantic drama about loss, healing, and love's ability to reach beyond scars and secrets, no matter how deep or hidden.

WARNING: This book is intended for 18+ readers ONLY. Potentially triggering content and concepts in books to follow.

More than a year after the death of his best friend, Josh is still tormented by the past. Everything changes when free-spirited Willow barges into his life. She challenges him, helps him feel something other than the overwhelming pain, sadness, and anger.

There's just one problem.

Underneath that carefree spirit, Willow is elusive and secretive. Josh believes she may be fighting a few demons of her own, but the harder he tries to uncover the truth, the more she pushes him away.

Can Josh get her to open up before it's too late? Or will he discover that some secrets are better left untold?
I
was contacted to review this book and post for the
blog tour
, after reading the summary on goodreads I wanted to give it a shot. I have been reading a lot of New Adult lately--
too
much, honestly-- and I figured I may enjoy this one. I liked that it would be told from a male's POV.
I'm pretty sure that if I read this a year ago, or even a few months ago, I would love it. But I am so burned out on new adult and the same storyline that I could not take the book seriously, at all.
I'm over the harboring secrets, the push and pull, helping each other through their "dark" pasts, blah blah blah...
ENOUGH
!!!
From the
very
very
very
beginning, there was no one else but Willow and Josh and this attraction that Josh had towards her for no reason. At all. I could not find a single moment when I thought "I could see why you would like her." We knew
nothing
about her other than she smelled like vanilla and sugar and had a "side smile." That's not enough for me to want to be with someone. Especially the vanilla and sugar scent. Gag. [Two of my very least favorite scents....ever.]
Josh is harboring all this pain for possibly killing his best friend on a drunken night and Willow blows in and brings him smiles and laughs and etc etc... the same thing.
I'm sure something else along the way may be different than any other book, and maybe Willow's story grows and we learn more about her, but I just couldn't bring myself to care enough to read further.
This may very well be a book for
someone,
judging by the reviews on Goodreads, but this book was just not for me!!
I need to run from the NA contemporary genre and come back when I've cleared my head of the repetitiveness. Redundant.