I know this is supposed to be posted on Mondays but I wasn't going to do it at all & decided I needed a reason to post a new blog! So, next week this
will
be posted on Monday!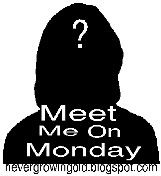 Meet Me on Monday is hosted by Never Growing Old and it's a meme for bloggers to get to know each other one Monday at a time. (yeah, Shanise...key word is
Monday
...sheesh.) So I decided I'd hope on the train and do it this week.
1. What do your normally eat for breakfast?
It depends on my mood, and what time I get up. I was getting up at 6:30 AM for awhile then got sick, and now my time is screwed up. But when I did I'd either eat cereal, scrambled egg whites and toast, strawberry pop tarts (no frosting--yuck), or left overs from the night before. But of all those my favorite is Strawberry Awake cereal from Great Value and a fruit like 1/2 of a grapefruit, a banana or something.
2. What kind of car do you drive?
None. I'm a loser like that. But I really....
really
want one of two cars. A 2007-2010 Nissan Frontier or a 2008 Nissan Xterra. I like to be high up and I like that the Nissan's aren't boxy and "manish". But I still want a truck or SUV. :)
3. Have you ever met a famous person(s)?
Nope. :( Unfortunately I haven't. I would love to meet Jonathan Togo, Demi Lovato, JoJo, Brendon Urie, Paramore, and Justin Timberlake! (Random, I know.)
4. What is your favorite ice cream flavor?
I actually love Andy's Frozen Custard. Preferably their Oreo Concrete. But in general I love Ben & Jerry's Strawberry Cheesecake ice cream (or frozen yogurt if I can find it).
5. Which TV Channel do you watch the most?
I don't really know. Probably ABC or CBS. But I only watch TV if I have a specific show on and right now they're spread out over many different networks that I don't know which I watch more.
**Well that was fun. Can't wait until next week. :)
Some pictures you can click to make bigger.